Discover time-honored techniques and practices to improve the health and well-being of you and those you serve.
Whether you seek to address daily stress, fatigue or burnout – or enrich your professional capabilities – Heartfulness Institute offers healthcare professionals transformative tools and educational programs.
Who Attends Heartfulness CME Programs?
Health workers, including those working in patient care such as physicians, nurses, therapists, home health aides, medical assistants and others who serve in critical support roles, may attend Heartfulness CME programs. Please note, only physicians and nurses are eligible for CME/CE credits.
How Can I Professionally Benefit?
Heartfulness Institute healthcare programs and events bring together some of the world's foremost doctors, researchers and healers who share deep insights and proven practices that can be put into practice in clinical settings. You'll learn how to integrate timeless principles and proven techniques to promote healthier outcomes.
How Can I Personally Benefit?
Medical professionals in North America are some of the most culturally diverse in the world. Heartfulness Institute provides community and networking opportunities to medical professionals seeking practical tools to support wellness and self-care.
Heartfulness for Well-Being
How can healthcare professionals benefit from Heartfulness meditation? Listen to an inspiring interview with Jay Thimmapuram, MD, Academic Hospitalist, Internal Medicine at WellSpan York Hospital in which he reveals easy relaxation tips and describes how meditation lowers stress levels, helps reduce burnout and improves sleep.
Alarming rates of clinician burnout in the United States
Anxiety, burnout, insomnia and other work/health related disorders are compromising both health and performance within our medical institutions.
The most burned-out doctors by specialty:
Emergency Medicine

65%

65%

Internal Medicine

60%

60%

Pediatrics

59%

59%

OB/GYN

58%

58%

Infectious Disease

58%

58%
The most burned-out doctors by specialty:
Emergency Medicine

65%

65%

Internal Medicine

60%

60%

Pediatrics

59%

59%

OB/GYN

58%

58%

Infectious Disease

58%

58%
The Role of Personal Transformation in Reducing Burnout
Learning to reduce stress while staying present is the first step in healing the burnout epidemic within the medical industry. Contemplative personal practices such as meditation and relaxation have a positive impact on the health practitioner, their clients and patients, and the industry as a whole.
Peer-reviewed published articles about Heartfulness research
Interested in learning about Heartfulness meditation and relaxation?
Don't miss an event. Sign up for notifications and we will send you an invitation and calendar reminder several weeks before any new events begin.
Sign Up for Event Notifications
Photo Gallery From Past Conferences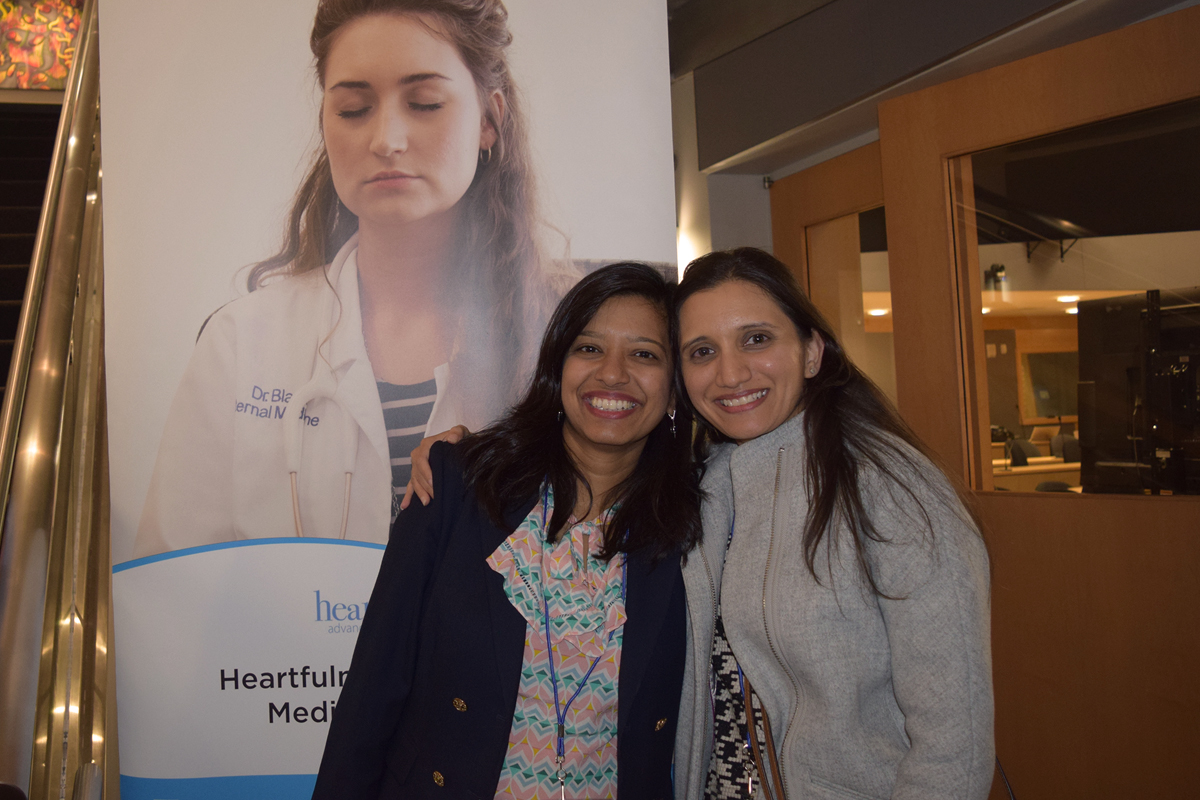 Dr. Michele Wagner, PA-C (Orthopedics)
Such a unique experience with diverse speakers and topics. I will be sure to spread the word. I already posted about this on social and had several contacts reach out with interest.
Dr. Peggy Kwun, MD (Psychiatry)
Great variety of interesting speakers. Appreciate keeping speakers on time. Great lunch! I now have a better understanding of how the practice of Heartfulness meditation differs from other meditation practices.
Dr. Anupama Mohanram - Nephrology - Indiana
As a Zoom participant, I felt included and appreciated the answers to my questions. I loved the variety of topics and the format; the list of references from each speaker.
Dr. Brenda Schlaen, MD (Family Medicine)
This conference gave me hope and a sense of excitement for the future of medicine. Inspiring speakers, full of studies, evidence-based medicine and knowledge. Thank you for taking your lifelong practice and interest and finding a place for it to heal and educate healers.
Dr. Lauren Towle - Emergency Medicine, Chicago, IL
Thank you, truly, for collating this amazing event. I am so grateful to have been a part of it. Punctual, professional, well-thought-out presentations from diverse angles. I really enjoyed having the guided meditations dispersed throughout the lectures.
Dr. Christine Bourgeois, DO (Family Medicine)
I loved each talk; I especially loved the guided Heartfulness meditation experiences. Please do this again next year. I liked the size and intimacy that made me feel comfortable and so connected.